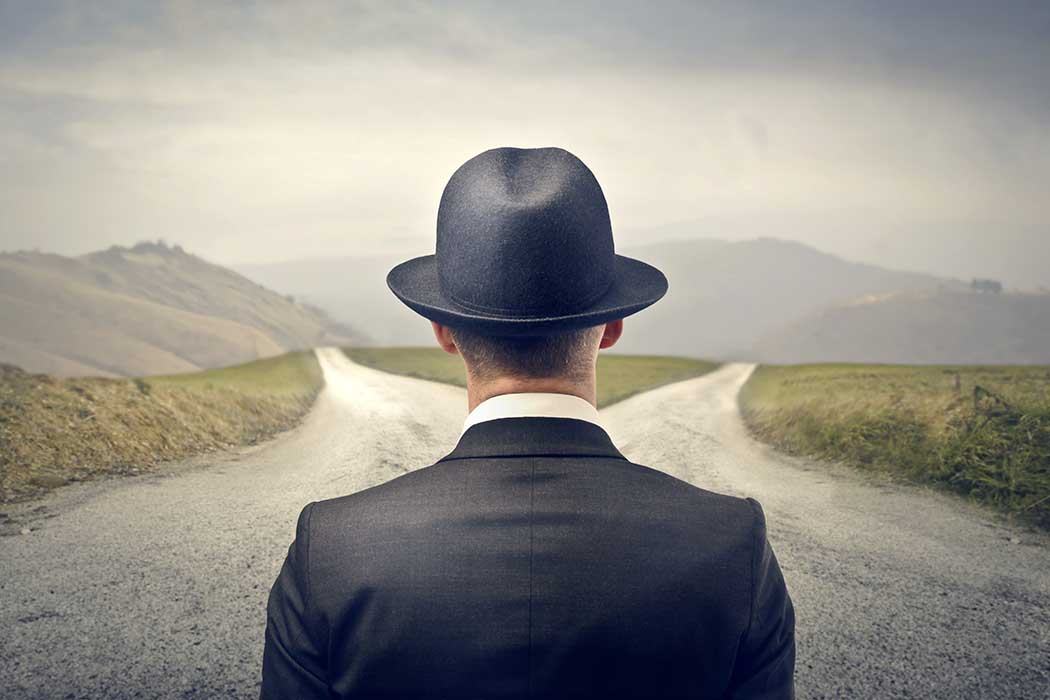 Two roads diverged in a yellow wood,
And sorry I could not travel both
And be one traveler, long I stood
And looked down one as far as I could
To where it bent in the undergrowth;
———
Then took the other, as just as fair,
And having perhaps the better claim,
Because it was grassy and wanted wear;
Though as for that the passing there
Had worn them really about the same,
———
And both that morning equally lay
In leaves no step had trodden black.
Oh, I kept the first for another day!
Yet knowing how way leads on to way,
I doubted if I should ever come back.
———
I shall be telling this with a sigh
Somewhere ages and ages hence:
Two roads diverged in a wood, and I—
I took the one less traveled by,
And that has made all the difference.
———
---
I'm sorry to burst your bubble, but we've apparently all been reading Frost's poem wrong.  See here and here, as well.  To sum up the opposing interpretation, Frost states that the two paths are worn essentially the same and that, when he one day looks back and reflects on his chosen path over the other, he will deceptively convince himself that the chosen path made all the difference in his life, while never truly knowing what the other path may have provided, having no way of going back and choosing differently.
---
When I stumbled into this world of personal finance, I was heading down the well-worn path of a "normal" working career, fresh out of undergrad and delving into my role as a registered nurse.  From the beginning, I had every intention of continuing on to grad school (which I still want to do…at some point) and climbing the proverbial ladder, making my way to the top of the food chain as CEO or Chief Nursing Officer of a major hospital somewhere in the country.  Honestly, I still love the idea of doing that and, who knows, maybe I will "(keep it) for another day."  In my younger days, while I didn't know the specifics would include being a registered nurse, this was the general path that I had been looking down my entire life, never knowing of the possibilities of early retirement or the concept of financial independence.  If I were to choose to follow this path and continue on as a federal employee, I would eventually (assuming nothing changes) qualify for a nice pension and continued health insurance benefits into retirement, both of which are, quite understandably, incredibly appealing.  Also, in the meantime, we could continue investing at the oft-touted 10-15%, make the minimum payments on our debt, continue financing new cars, settle down with a 30 year mortgage, take frequent vacations, and do all the other "normal" things that the majority of people do.
However, thanks to the birth of our son (our proverbial fork in the road,) many of you fine people, and the likes of Dave Ramsey and Mr. Money Mustache, I have been given the opportunity to stare down the other path, the one with "perhaps the better claim."  Does it really have the "better claim" though?  Reading about the lives of those who have done it and about those of us who are fighting and ever-inching closer to that goal, certainly makes it seem that way; however, the true answer is…
I DON'T KNOW
"Somewhere ages and ages hence," I shall find myself reflecting on the decisions I have made throughout my life (including with regards to reaching FIRE) and, regardless of the path I/we ultimately choose to follow, we'll convince ourselves that it was the right decision, having no way of knowing whether or not it's actually true.
In fact, we've already experienced this phenomenon just a couple short years ago, which I wrote about recently in my post titled Don't Be Afraid to Run.  Reflecting on our decision to move to South Dakota, as opposed to Houston, TX, we've told ourselves many times how much better off we are.  On the surface, there is sound logic in our reasoning and I don't second guess or regret our decision in the slightest; however, who truly knows what our lives would be like down there?  Maybe we would have crossed paths with some stranger, formed a great business idea, and be sitting pretty as multi-millionaires right now.  FYI…not likely…lol.  However, that would have certainly made us think back and say that choice had "made all the difference."  When we changed course, we even told ourselves that we could always move to Houston later on down the road, i.e. "(keeping) the first for another day!"  Now though, as "way leads on to way," we've grown to love our rural surroundings and actually hate the idea of fighting traffic to drudge back and forth between work and home.  It's quite unlikely that we'll ever revisit that fork in the road, as we now have our sights set on new and exciting adventures to come.
---
Our Next Life recently issued a challenge to discuss our own "road less traveled" and the unique steps we are taking to reach FIRE.  Honestly, I wouldn't say that we are doing anything unique at this point in time.  We are throwing all the money we can at our debt and are currently on pace to be completely debt free in about two years.  Within the next two to three years, our current plan is to move into an RV full-time while traveling the country as I work as a travel nurse.  This should (at least, in theory) allow for our savings rate to continue increasing, while also allowing me to get paid as we travel this wonderful country and explore all it has to offer, all the while giving our son the greatest hands-on, in-the-dirt education that no school system could ever dream of.  *For more on that topic, check out this article from Steve over at Think $ave Retire*
The only "downside" to this plan is that it would involve us going back into debt with the financing of the RV, as there is no way we could have the cash to cover it in that time period.  However, the beauty is that the housing stipend I would get from whatever travel agency I work with would almost, if not completely, cover the monthly payment of the RV.  I actually called one agency a couple months ago and was informed that, depending on the cost of living in the area I work, the housing allowance is $300-$1000 per week 😐 plus up to $800 in mileage to drive to the destination, all of which is in addition to my hourly wage and any other stipends that may be included/available for the assignment.
Otherwise, if we choose to not go back into debt right away, maybe we'll just stick around here.  I make damn good money, have incredible health insurance benefits, and we love our home and the beautiful area.  Total debt freedom right here will allow for our savings rate to skyrocket, as well as the ability and freedom to travel wherever we choose.
---
So…fast forward three years from now.  There we'll stand, at yet another set of roads diverged in the proverbial yellow wood.  Two paths and choices will lie before us.  We'll be sorry that we cannot travel both, hoping to choose the one with the better claim, all the while knowing that, one day, we will look back and tell ourselves that, whichever path we ultimately choose, it will have made all the difference.
---
So what path are you choosing?  Do you find yourself heading down the "normal" path or forging your way toward FIRE?  Presumably, if you're reading this and other similar blogs, you're heading toward FIRE.  Or, do you say fuck it, bust out an axe, and clear your own path?  What is your "road not taken" and, unique or not, what are you doing to get there?
– Nurse on Fire